Messages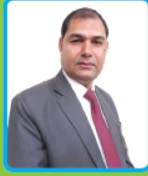 Prof. Dr. Padam Raj Joshi
Campus Chief
First of all I, myself is proud of KMC because this institution has provided me the opportunity to learn, to serve and to lead. Before three decades, I got an opportunity to enter at KMC as a new student and this campus had given me a chance to stand as a topper student.
Before two decades, I got another opportunity to enter at KMC as a faculty member to serve the institution. And this year, I got a challenging opportunity to lead the institution as a Campus Chief. Once again, I would like to express my heartfelt acknowledgment to KMC.
KMC's last few years have been extremely successful. The award of Quality Assurance and Accreditation (QAA) certificate by University Grants Commission (UGC) for its excellence in higher education, ranking number one by UGC among the community campuses of Nepal, selection of KMC for participating in Higher Education Reform Project, obtaining the permission to run MBA Programme from TU under the academic autonomy provision and selection of KMC as the best community campus for the year 2074 by Ministry of Education are some examples of its success and accomplishment.We have to continue to move ahead for achieving our strategic goals overcoming many challenges.
Dear students! Your determined efforts with the guidance of our highly qualified and dynamic teachers would definitely provide you a blissful and successful life.
On behalf of KMC family, I would like to welcome you and wish you all the best for achieving better success and new height in your student life of KMC.
- Prof. Padam Raj Joshi, PhD
Campus Chief
joshipr@kailalicampus.edu.np